Offroad School Viet Nam - The first professional terrain driving school in Vietnam, officially opened in the National Cultural and Historical Park District 9, Ho Chi Minh City. With an area of ​​33,000 square meters, Offroad School Vietnam is cherished as a top driving training school, as well as training the first large cylinder driver in Vietnam.

The professional terrain driving school was officially launched on 9/9/2017, gathering more than 100 bikers ... most of them are passionate about the tour and adventure line specializing in terrain types, in addition There are those who would like to learn more about this addictive off-road race, as they do not pay attention to speed, but rather drive skills that deal with situations and techniques that transcend terrestrial, muddy slope, high vertical slope and so on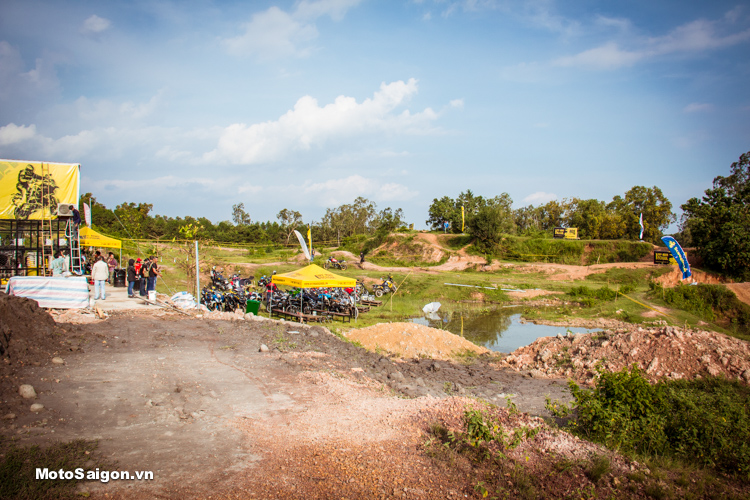 Trường đào tạo lái xe địa hình đầu tiên tại Việt Nam với khu vực bãi tập được xây dựng gần gũi với thiên nhiên, địa hình được cải tạo với những gò đất có độ cao khác nhau, đất bùn, hồ nước … phù hợp cho mọi trình độ và là địa điểm lý tưởng để cắm trại, cũng như tổ chức các cuộc thi, sự kiện về thể thao.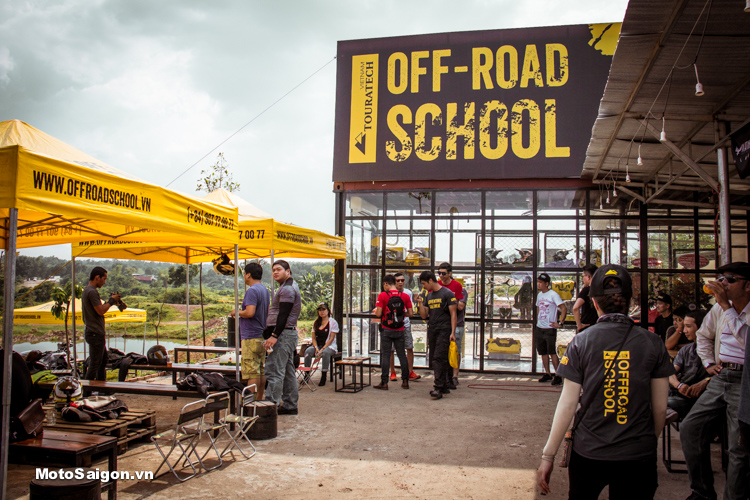 Offroad School Vietnam currently has 2 courses:
Basic: for those new to learn about pkl motorcycles, equipped basic skills when using PKL.
Advanced: for students who want to improve their skills in using and operating large displacement vehicles, combining short-term tours to help them supplement and improve their practical skills in different terrains.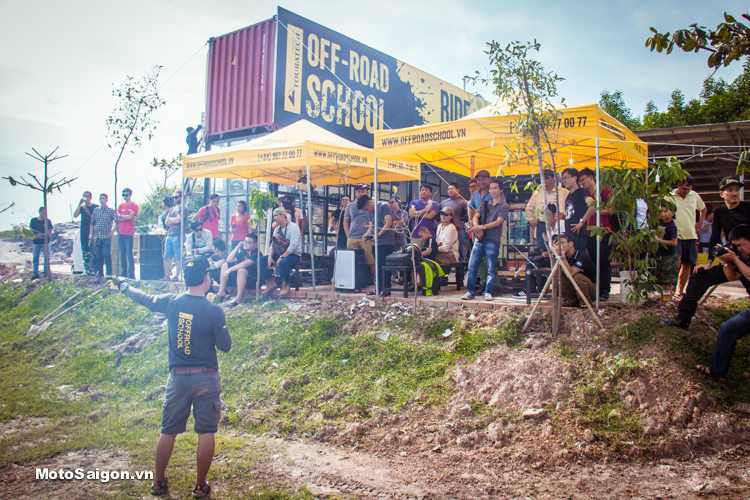 In addition to organizing training courses using large bike, Offroad school Vietnam is also a venue for organizing sporting events, club rental rental, clubbing, pickup, SUVs , ...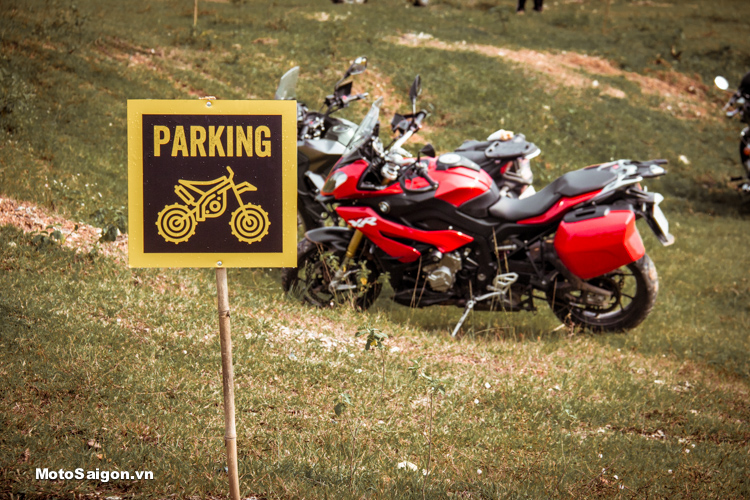 According to the WHO report, Vietnam is one of the countries with the highest rate of traffic accidents in the world, especially accidents caused by motorcycles and motorcycles. There are many causes for this problem, but the most important cause is the consciousness of the people involved in traffic. Known as a nation of two-wheelers, almost all of the population knows how to use a motorbike, so it is not difficult for Vietnamese people to move from motorcycle to motorcycle.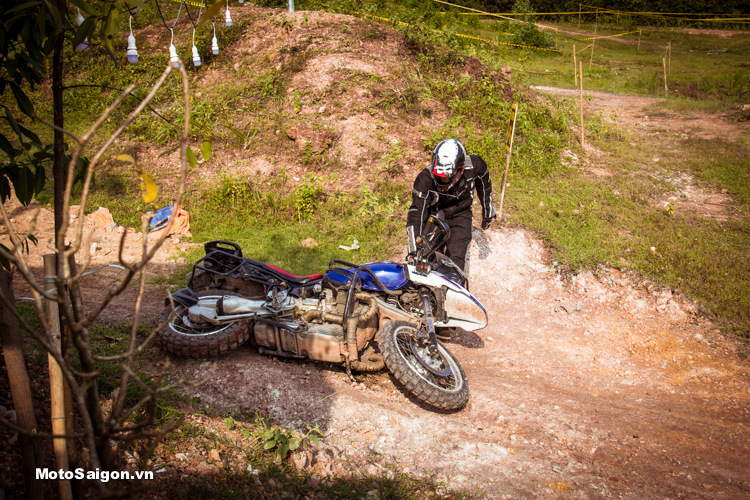 In addition, Vietnam is a country of adventure vehicles with the advantage of hilly terrain that attracts challenging drivers who like terrain vehicles but need professional training and But there is no such environment in Vietnam.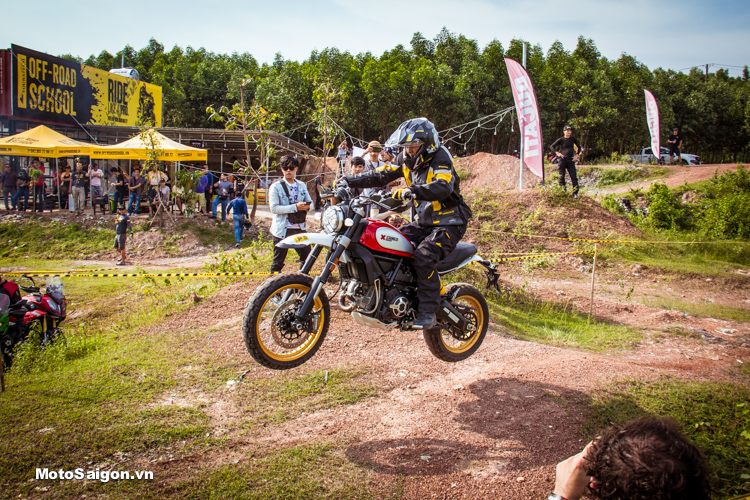 Adventure culture, the speed culture, is not just about driving a car, but rather the biker needs to be equipped with winding road handling skills, proper speed control, to maximize safety.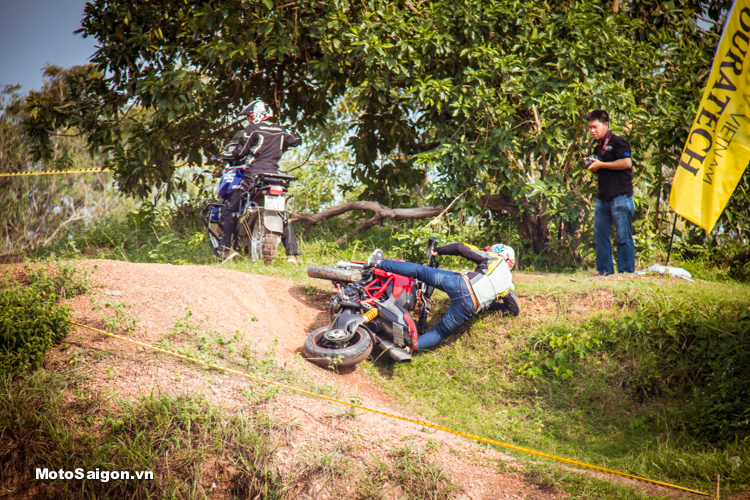 Many bikers are still driving at high speeds without adequate protection, have not exploited the special features of the car or handle many dangerous roads in the wrong way, leading to unfortunate accidents.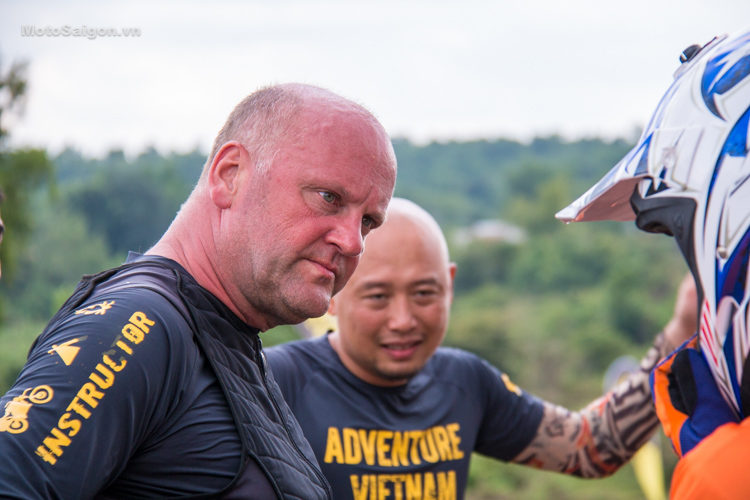 Piet Lievens Instructor, BMW Motorrad Instructors International
For those reasons, Offroad School - organized by Touratech Vietnam, based on the model and professional training program Touratech Rally - Germany popular and prestigious in developed countries, countries have played PKL , terrain vehicle for ages. The program has been widespread and became a well known program, with internationally trained coaches.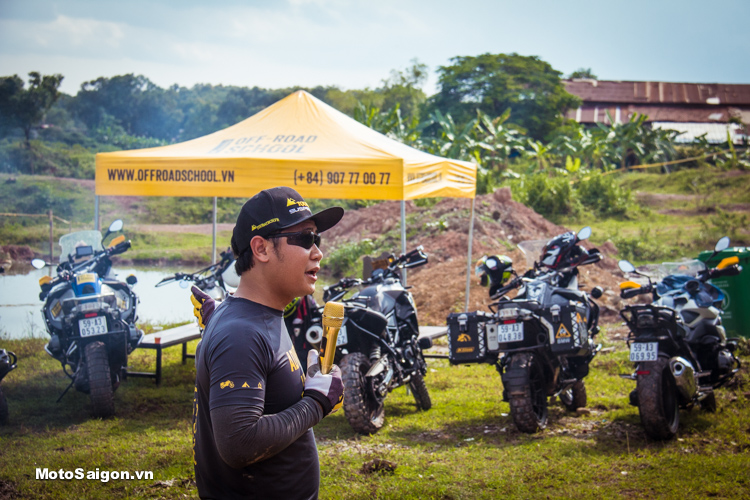 Mr. Tri Ho – CEO Touratech Vietnam
For the first time, Touratech Vietnam introduces this model, with the mission of building a culture of healthy speed, a professional driving environment, safe for the Vietnamese biker, wing for the brothers love the line. Terrain vehicles are trained and become professional drivers.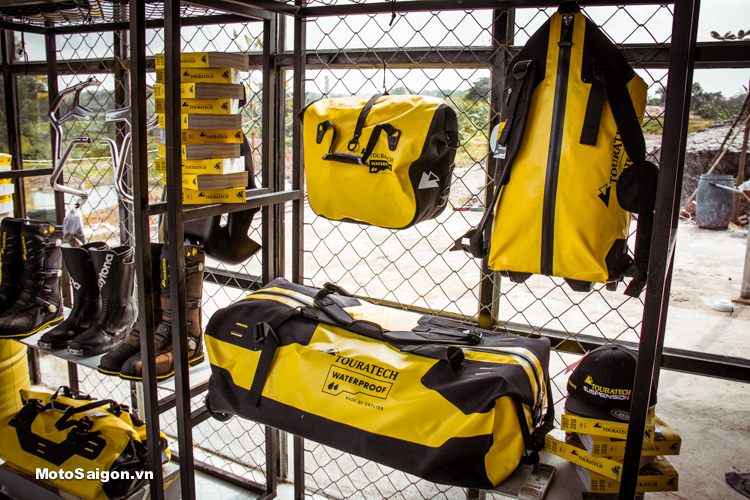 The equipment, protective clothing is designed specifically for the Adventure Touratech.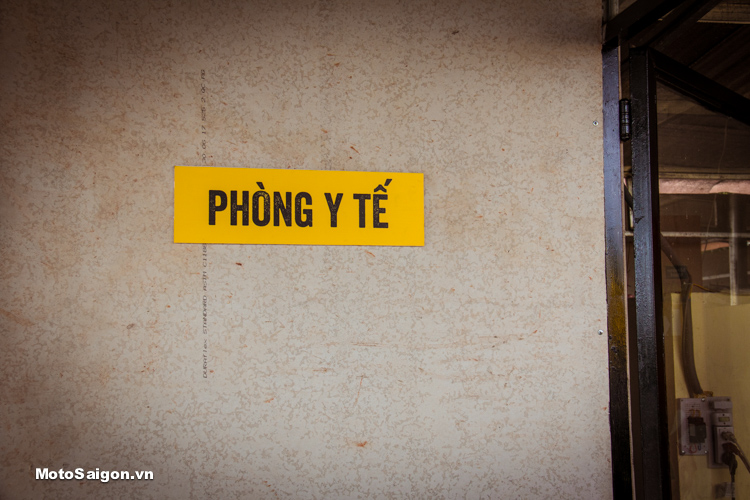 The medical area is available to support the trainees.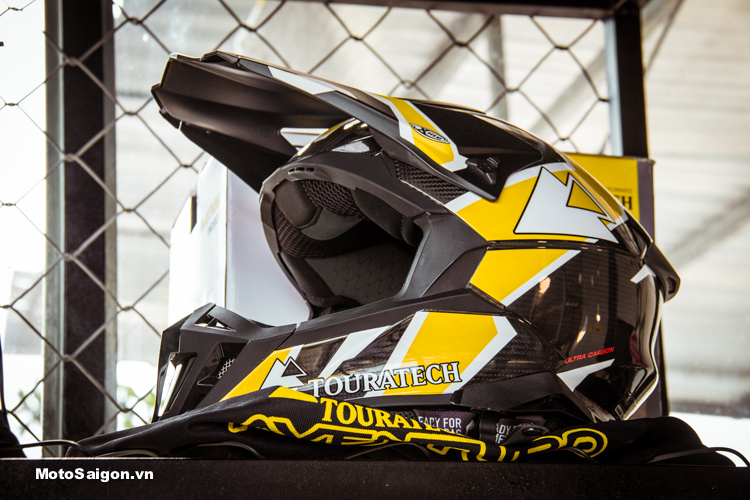 Superior Touratech Vietnam's high-performance dual-sport cone, weighing just over 1kg.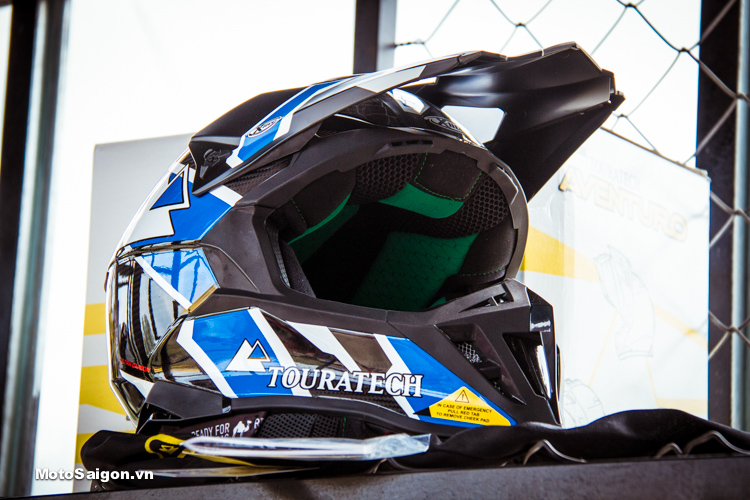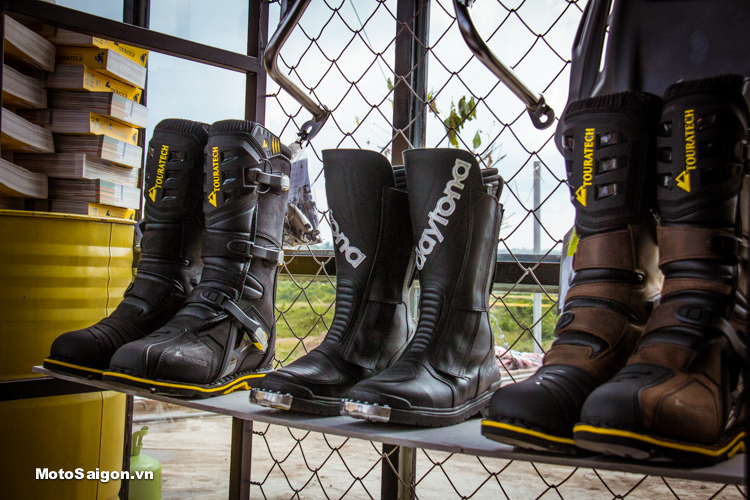 Full range of waterproof shoes.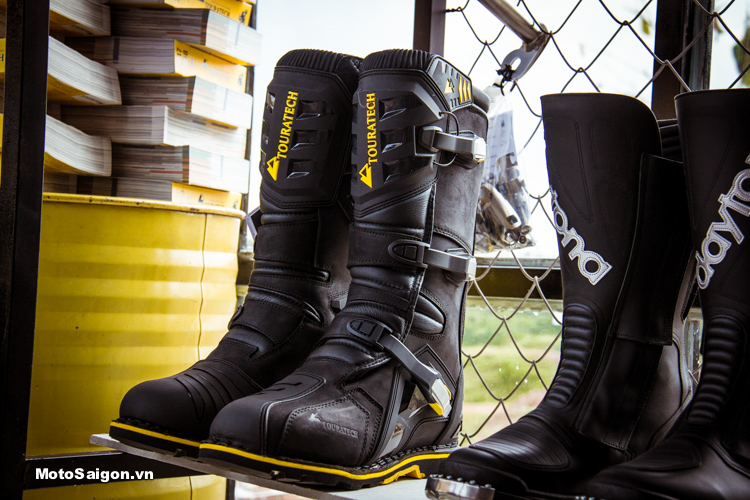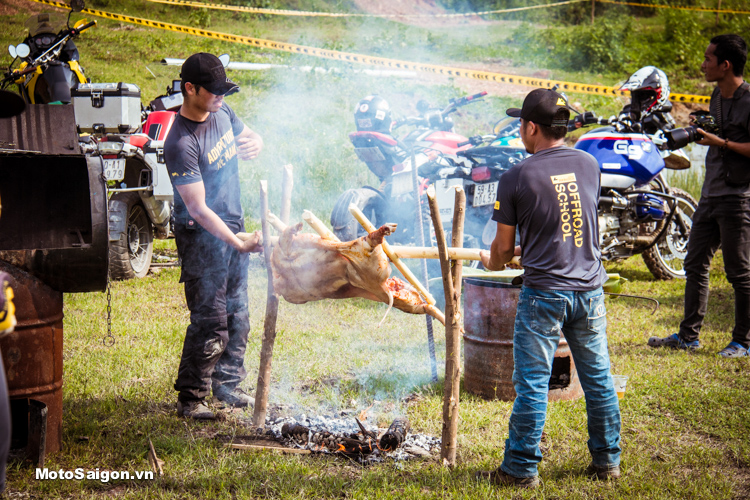 Practical sessions will take place in various locations throughout Vietnam, combining the adventurous Adventure.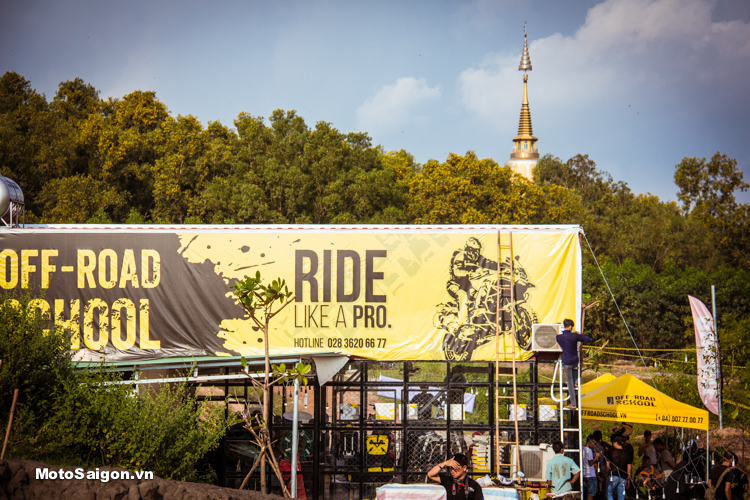 Cùng Motosaigon xem toàn cảnh Lễ khai trương Offroad School Vietnam ngày 9/9/2017.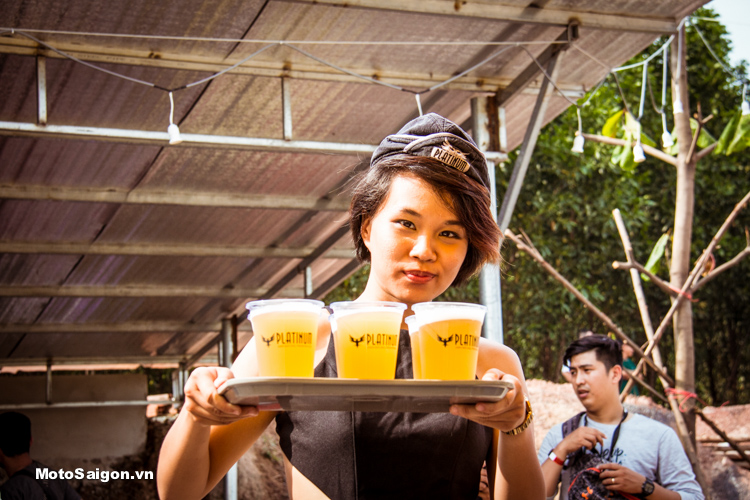 Guests are welcome to enjoy the Platinum Beer.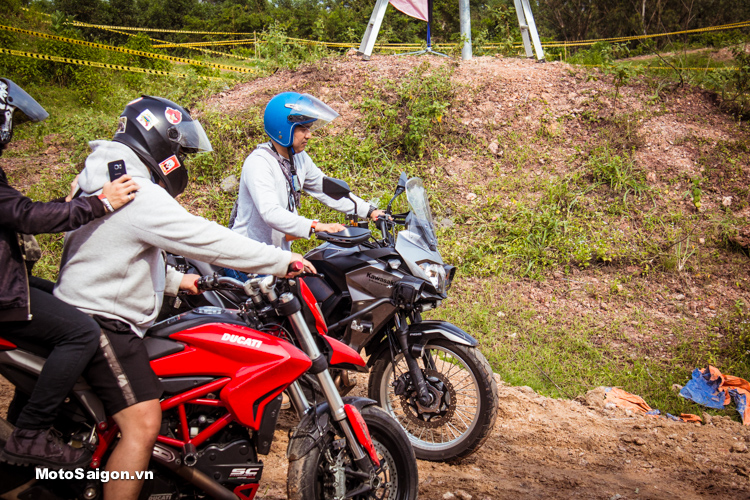 Various types of motorcycles from 150cc to 1200cc converge at the opening ceremony, most of them are Adventure, Sport-Touring, Offroad, Motard etc.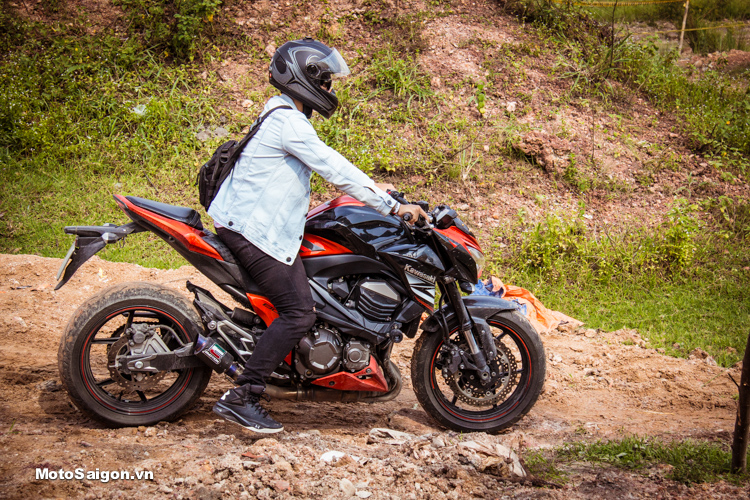 Kawasaki Z800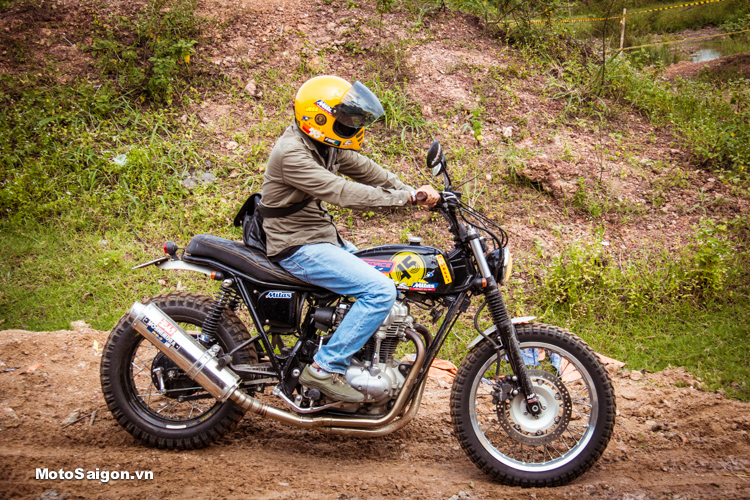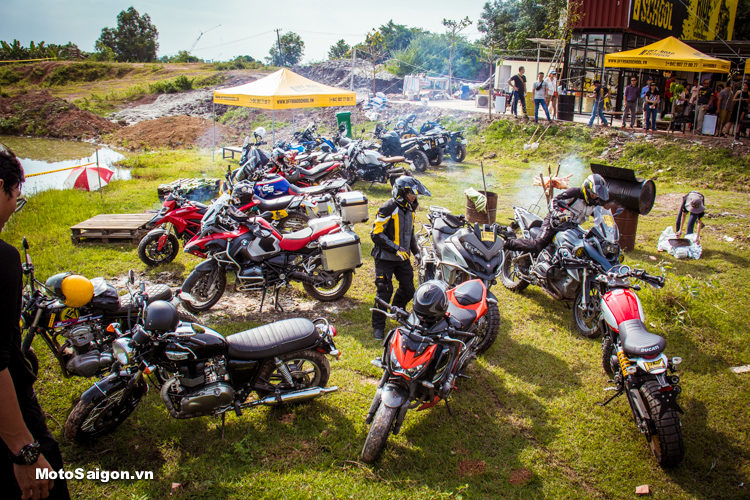 A corner of the parking lot of the guests and the biker to learn Adventure.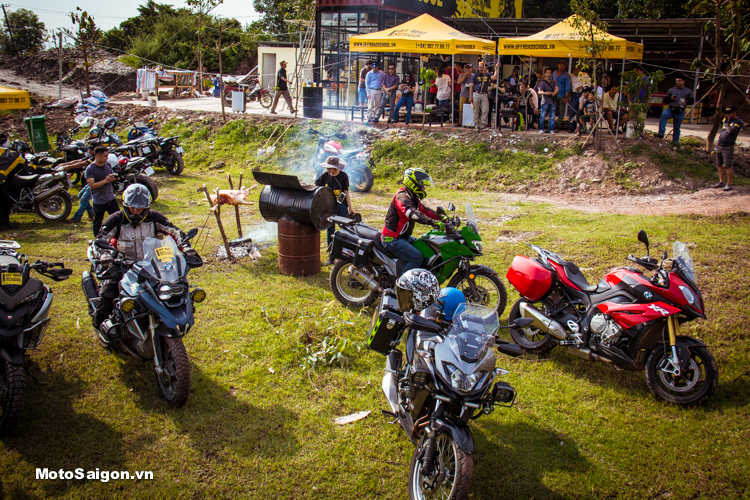 From the cafeteria area and showroom guard showroom, you can see the training area.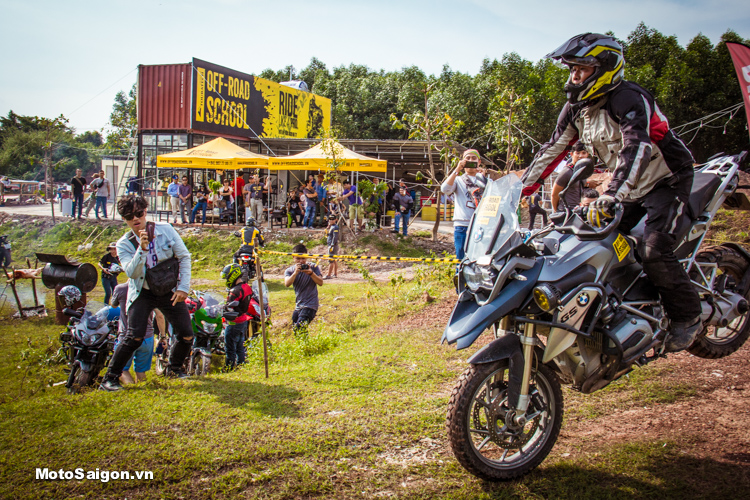 BMW R1200GS flies through the soil at high speed.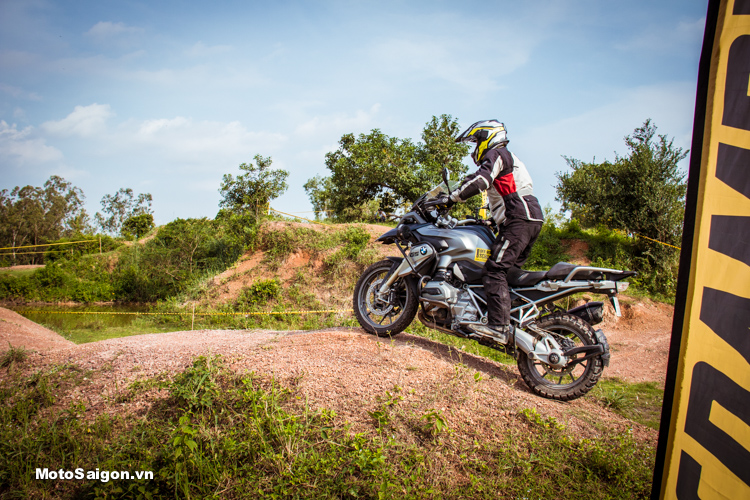 The site is divided into several areas with increasing levels from basic to advanced. When self-control a motorcycle and roll on the training ground you can see the reality of the difficulty of the yard than standing outside looking at.
Take a walk around the squeeze exhausted exhausted the new beginners.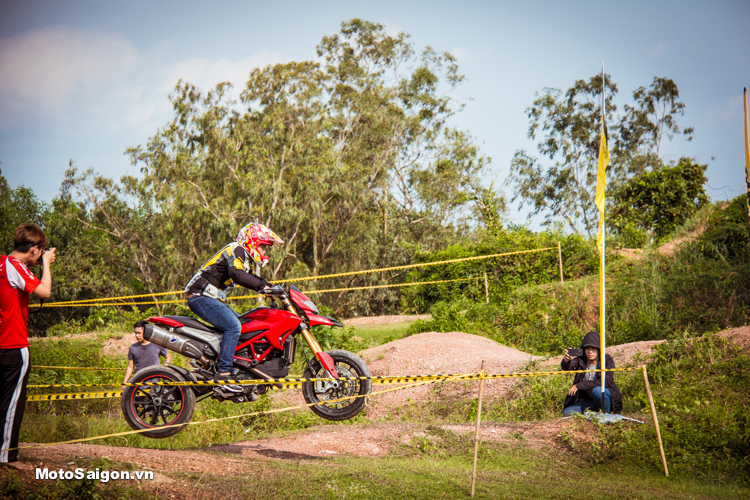 rất thú vị.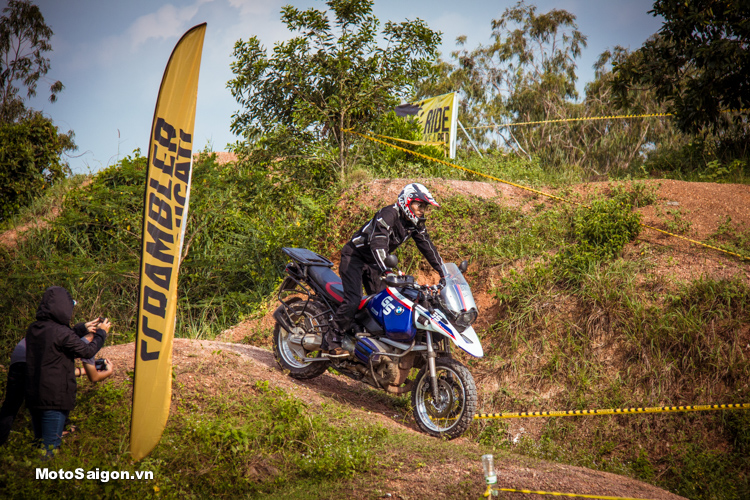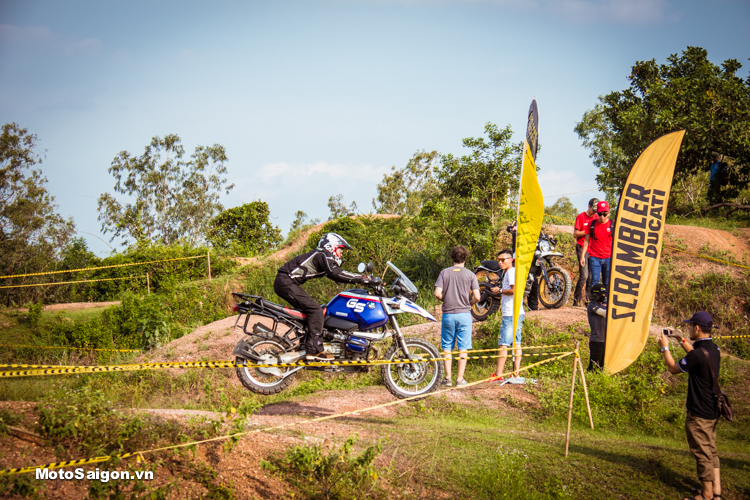 BMW also flies no less, the BMW R1200GS is rated as the Prince of Adventure series with different modes. Here, you will be guided in detail how to combine driving modes and switch on technology on vehicles depending on the terrain through.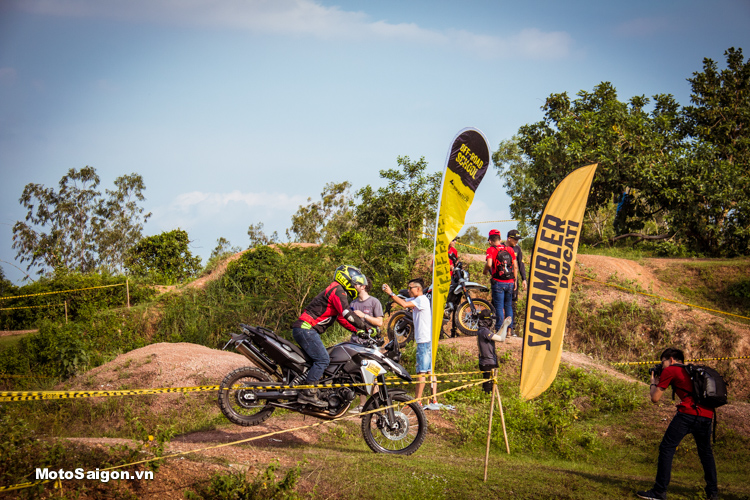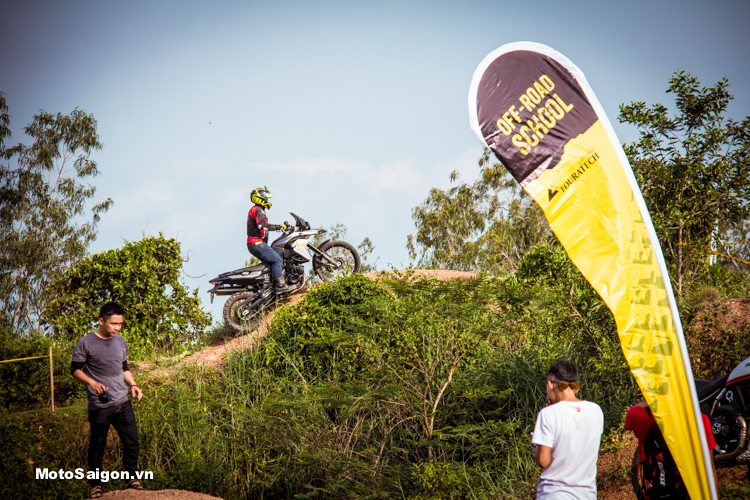 Offroad School Viet Nam - Professional terrain driving school
Address of the rehearsal area: Ethnic cultural and historical park, Road 16, Long Binh ward, District 9.
Office address: 224 Mai Chi Tho, An Phu Ward, District 2
Hotline: 028 3620 6677 | Website: www.offroadschool.vn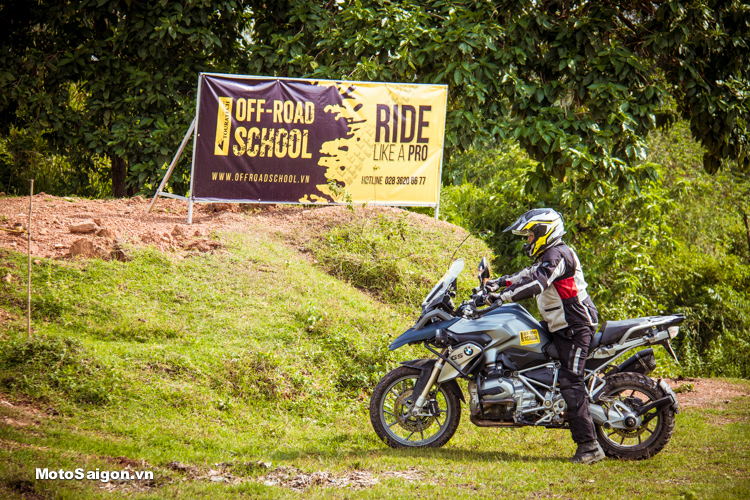 At present, Offroad School Vietnam also cooperates with many big brands such as Ducati, BMW, KTM, Kawasaki and tire and lubricant companies together to build a safe, healthy and professional driving culture in Vietnam. Male. In particular, appearing surprised and impressed at the opening ceremony of Offroad school Vietnam, Ducati has brought to the Multistrada 1200 Enduro with many improvements in appearance, 160 horsepower offroad car is promising to be an option. Great for off-road enthusiast bikes. The latest member of Scrambler family in Vietnam - Desert sled 2017 also has a spectacular appearance, retains the design features of the Scrambler 800, but is equipped with some details to increase the ability. Performance and tolerance of the harshness of offroad terrain.